SMART Health Cards with OneRecord
Quick and easy access to you and your family's vaccination records.
Where you can use your SMART Health Card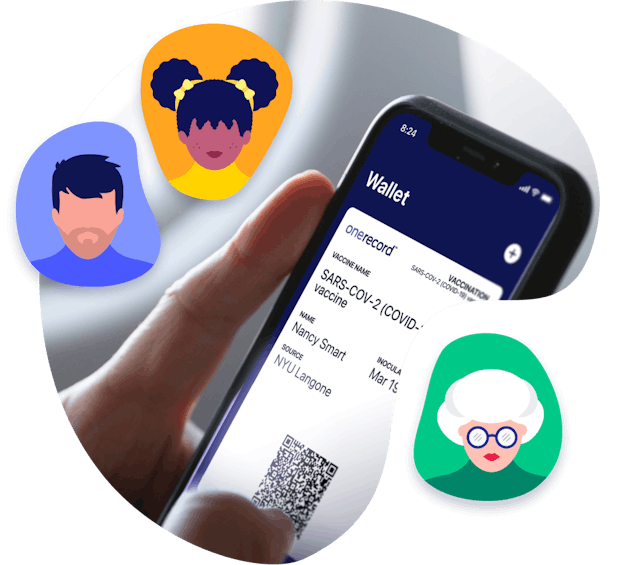 OneRecord is the only app that allows you to store SMART Health Cards for multiple people.
Your family's vaccination status in one place.
OneRecord keeps your SMART Health Cards organized in one easy and secure place. You can add multiple health profiles to keep track of your family's vaccination history. This way, you can present your child's, parent's or any patient's SMART Health Card on their behalf. Be the CEO of your home and stay in control over where your family's records are shared.
Get Started
Get it
Once you've been vaccinated, you will receive a printout or pdf through the patient portal of your SMART health card from your provider
Scan it
In the OneRecord app, use your phone's camera to scan the QR code and save it to your Medical Records
Present it
Tap 'present' in the OneRecord app to share your SMART Health Card with others in any situation where proof of vaccination is required
SMART health cards and privacy
Your vaccination history is stored directly within the SMART Health Card as a QR code or file that you control. All SMART Health Cards contain only the information required to display your vaccination history.
Your legal name and date of birth
Your clinical information
Tests: date, manufacturer, and result
Vaccinations: type, date, and location
Your phone number
Your address
Your government-issued identifier
Any other health information