SMART Health Cards—A New Way to Share Medical Records
More than ever, the ability to easily and quickly share certain aspects of your health information is essential. Whether you might want to prove your vaccination status to an airline, provide recent test results with your doctor, or verify that your child's COVID-19 screening came back negative for a safe return to school, the applications—and implications—of seamless health record communication are numerous. But short of requesting access to various results from your healthcare providers and rummaging through stacks of paperwork to demonstrate your medical records, a method which ties in the accessibility and security of today's electronic health solutions has been missing. That's where SMART Health Cards have stepped in to enhance the experience.
What are SMART Health Cards?
SMART Health Cards are digital or printed QR codes that function as shortcuts to your vaccination history, test results, and other pieces of relevant health information. Simply by using a SMART Health Verification App, another organization or business asking about your health information can check the validity of your records in a single touchless exchange. In contrast to the conventional ways of tediously gathering medical results in a physical format, SMART Health Cards create the potential for a standardized method of sharing your personal medical records efficiently, simply, and free of charge.
The technology behind SMART Health Cards was created by the SMART Health IT project based out of the Boston Children's Hospital Computational Health Informatics Program, with leading innovation provided by the Vaccination Credential Initiative (VCI).
Who Uses SMART Health Cards?
SMART Health Cards are used by healthcare services, restaurants, schools, sporting events, public entertainment venues, and more.
With the ripple effects of COVID-19 still being felt across the globe, many healthcare institutions such as clinics, nursing homes, and hospitals are now requiring their employees to be fully vaccinated to work. Companies with large employee populations now need a fast way to determine the vaccination status of their crewmembers. Likewise, colleges and universities have also started requiring testing and/or proper vaccination before students can attend classes. All of these institutions are the most likely to implement SMART Health Card technology into their processes in the near future…if they aren't already doing so!
As the adoption of SMART Health Cards continues to expand across the U.S., more and more organizations outside of healthcare and workplaces are expected to take up the new technology and expedite their screening capabilities.
Do I Need a SMART Health Card?
If you're hesitant to ask your healthcare provider for a SMART Health Card after your latest visit, rest assured that the traditional means for sharing vaccination status and test results with employers, healthcare professionals, and various businesses aren't going anywhere. However, as more services begin to require health verification from their users, the need to provide medical history at a moment's notice is only going to increase. To that end, taking full advantage of emerging technology that promotes the interoperability of medical information should be in everyone's best interest.
SMART Health Cards are safe and secure, with only the patient's name, date of birth, and relevant clinical information visible on the card itself. Any additional data is only transferred to the person you wish to share it with. The cards can also be stored in digital format via download links, making it easily available on smartphones and tablets.
Get Your SMART Health Cards On OneRecord
OneRecord is the best way for users to gather their medical records into one place for better individual healthcare management Even better, the OneRecord app is fully compatible with SMART Health Cards, allowing you to pull up your most pertinent health history in just a few finger taps for others to see. Check us out on Google Play and the App Store to start collecting your health information into one place, simply.
Where Can I Get a SMART Health Card?
The SMART Health Card is the newest innovation in the digital health data equation. With the ability to pull up your vaccination status or pertinent medical records on the go in either a digital or paper format, the technology is already introducing brand new screening capabilities for stadiums, airports, restaurants, and other venues. In time, this new feature will make its way across the nation and be utilized by many public organizations to streamline health verification.
But in the midst of the excitement, it's important to remember that SMART Health Cards are not yet fully implemented in many states. So how do you get one? Can you get one where you live? Keep reading to learn the best way to obtain your own SMART Health Card.
How Do I Obtain a SMART Health Card?
There are currently three ways to get your SMART Health Card: from state-run vaccination sites, from your private clinic or pharmacy, or from your healthcare provider.
If you got vaccinated at a state-run vaccination site, you can receive a SMART Health Card from your state registry. The card will contain records of your vaccination statuses for easy access whenever you need it. As of the time of this article, only California, Hawaii, Louisiana, New York, and Virginia are issuing SMART Health Cards through these means. If you were vaccinated in a different state, don't worry, there are more options.
Retail pharmacies are also distributing SMART Health Cards, so if you received a vaccination from one, you can log into the pharmacy's portal and request one at your convenience. Participating retailers currently include Walmart, Sam's Club, CVS, Rite Aid, and Express Scripts. If they have your health records on file, chances are you can receive a card from them.
Lastly, your healthcare provider may be able to connect you with your own SMART Health Card. If they are connected to CommonHealth, use MyChart, or are integrated with the Cerner HealtheLife app, you can formally request a card by phone, through their portal, or after your healthcare visit. They can then either give you a paper copy of your card and its QR code, or distribute it to you digitally via email.
As the SMART Health Card gains traction throughout America, more states, health systems, and pharmacies will jump aboard and begin issuing cards as well. A bright future of health information that is both accessible and sharable awaits!
Download OneRecord to Get the Most Out of Your SMART Health Card
Did you know our OneRecord app can now be used to store your SMART Health Card for even easier access? Simply connect to your patient portal via OneRecord or ask an authorized party to send you a smart-health-card file when you request a card. Once that's done, upload the file to the OneRecord app to keep it stored with all your other medical records. When the need arises, you can quickly open the OneRecord app to retrieve your SMART Health Card in all its digital glory.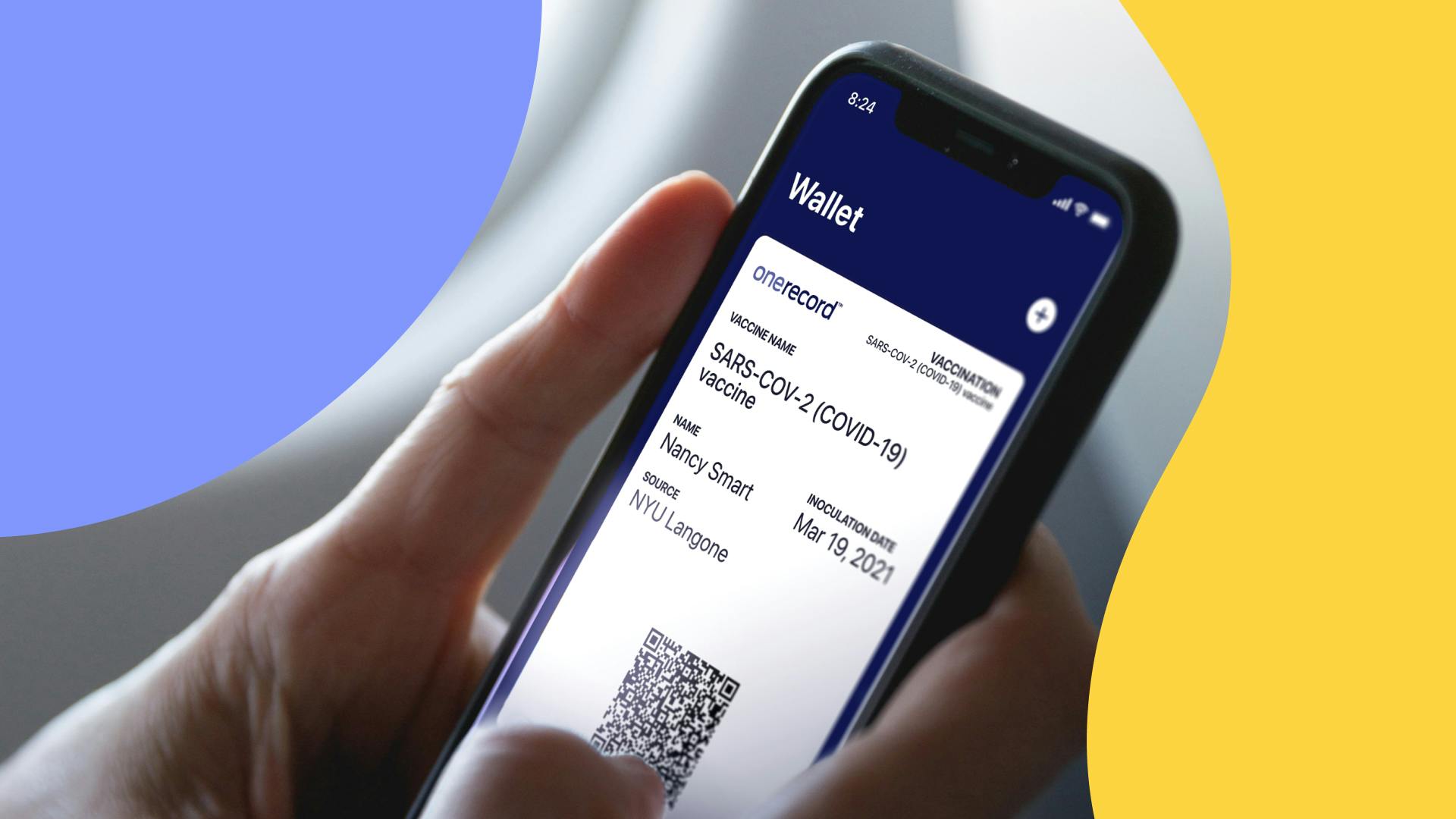 If you haven't downloaded the OneRecord app to gather all your health information into a single, secure place, find us on the Apple App Store or Google Play and get full control over your medical data today!
What is the SMART Health Card Verifier App?
Do you work for an organization hosting a big event? Expecting a large turnout to your community celebration? Need a quick way to verify vaccination status in order to keep people safe?
SMART Health Cards provide the ability to efficiently check guests' pertinent medical records in a secure, private manner, making them a viable solution for large-scale planning: parties, sports games, conferences, ceremonies, and cookouts are just a few examples of events that benefit from its technology.
For organizers, employers, and other forms of management, the SMART Health Card Verifier App—created by The Commons Project with help from Affinidi—operates as the other end of the spectrum, giving hosts a means of scanning people's health cards in a timely manner while respecting health information privacy. Read on to learn where to get the SMART Health Card Verifier App and how to use it.
Where Can I Get the SMART Health Card Verifier App?
Currently, the SMART Health Card Verifier App is available for download via Google Play or the Apple App Store. The service is free of charge, requiring no login credentials to be created prior to usage. Just download the app onto your smart device of choice and you're ready to go.
How Do I Use the SMART Health Card Verifier App?
Getting use out of the app is as simple and effective as the technology it pioneers. When someone presents you with the QR code associated with their own personal SMART Health Card (whether that be via paper format, digital format, or saved on the OneRecord App), boot up the verifier app and use the app's camera function to scan the code. This makes the SMART Health Card Verifier App a great screening companion for employees standing at the entrance of a venue.
After scanning a SMART Health Card QR code, that person's results will appear on your smart device. Information regarding name, date of birth, vaccination type, vaccination date, and vaccination doses will be shown, along with one of three different readings:
SMART Health Card Verified—the guest's SMART Health Card was deemed valid and originates from a verified distributor, such as a pharmacy, state-sponsored vaccination site, or healthcare provider.
SMART Health Card Partially Verified—the SMART Health Card was found to be valid but stemmed from an unrecognized issuer who is not within the CommonTrust network (the network which powers the registry of valid issuers).
SMART Health Card Unverified—the SMART Health Card was unable to be verified, meaning it may have been corrupted or tampered with after distribution. Use caution when this reading appears.
Don't Forget About OneRecord Integrations
At OneRecord, we continually invest in the future of accessible medical records and promote technology that gives users better control over their own health data. By adding SMART Health Card functionality to OneRecord, users are now able to store their SMART Health Card information and QR codes on their smart devices for quick, easy access. Simply connect your existing patient portals or upload your card file to the app and watch it get stored alongside all of your other medical records in one clean, convenient place.
Check out the OneRecord app on Google Play and the Apple App Store to start taking control of your health information today.
The Role of SMART Health Cards in the Future of Medical Data
Healthcare information technology, or HealthIT, has made strides in the last year.  Spurred by HITECH and the Cures Act, healthcare technology is progressively transforming into an accessible, interoperable playing field. Those who stay agile and innovative in the space will have the easiest time upgrading their systems to meet growing patient expectations. But what are the expectations people are developing these days? What is the most desirable outcome for their health data as we transition to 2022?
Mirroring the advancements seen in other IT realms, patients are looking for personalized, seamless, hassle-free experiences when handling their own health records. They want intuitive and powerful solutions available at their fingertips. Telehealth and the ability to be seen and tested by a healthcare provider at home, for instance, solves one side of the accessible healthcare equation. The other side—sharing the results of those findings wherever and whenever needed—is already being cultivated by SMART Health Card technology, and represents the future of medical record distribution.
SMART Health Cards Restore Control
SMART Health Cards—QR codes available in digital or physical formats that quickly refer others to specific personal health information—align neatly with the contemporary aim to bring health decisions back into the hands of patients. 
Rather than slogging through the manual process of requesting access to certain test results or vaccination statuses and signing a provider form to allow that data to fall into your possession, SMART Health Cards can be given to you following a visit at your local practice or pharmacy. 
Download links can also be used for the safekeeping of the SMART QR code on your smart device. Keeping a SMART Health Card at hand enables you to share distinct medical records with anyone looking for verification, bypassing the cumbersome need to gather that information yourself.
The ability to determine how your own health data is used is fully realized when the method of doing so is accessible, user-friendly, and straightforward. This is the current direction of the patient-centric healthcare movement as a whole, and SMART Health Cards push that vision forward.
Tapping into Technology to Solve Old Problems
It's no secret that the healthcare industry is still bogged down by legacy systems and old-fashioned means of storing and sorting medical records. Now that we live in an age where phone apps can deliver food to your door in a matter of minutes and customizable car insurance can be purchased day-of, people are looking to technology to transform how healthcare and how paper health records are handled. SMART Health Cards are a step in that direction, giving patients more options when it comes to the ownership and distribution of their own health data. When accessibility barriers are torn down, medical records become an asset to allow the patient to make better-informed decisions about their own health, from selecting providers to getting the proper insurance coverage.
As healthcare gradually becomes a more personalized experience through enabling technology, practices and health companies will move away from paper-based means of record-keeping in favor of modern, digital solutions and applications. This is great news for patients because more of the same decision-governing technology, which was formerly exclusive to physicians and pharmacists, will find its way into the pockets of the users who are the heart of healthcare. The ability to share medical records with appropriate parties whenever the need arises, per the discretion of the patients, well… SMART Health Cards provide just that!
OneRecord Integrates SMART Health Card Compatibility
At OneRecord, we have always believed in giving patients more control over their own health data. Naturally, configuring our OneRecord app to utilize SMART Health Card functionality was a logical decision and we're pleased to be one of the first to support the technology.
In many instances, you'll already have SMART Health Card information embedded within your medical records. If so, once you connect your patient portals to your OneRecord, you'll have your SMART Health Cards ready to add to your smart device wallet or ready-to-use in the OneRecord App. 
Alternatively, after receiving your SMART Health Card from an authorized party (such as your doctor, hospital, or pharmacy), be sure to request a .smart-health-card file to download or get sent to you. Once you have your .smart-health-card file, you may upload it to the OneRecord app to safely secure it, allowing you to quickly pull up your SMART Health Card record and vaccination verification from the convenience of your pocket. 
Learn more about storing all your health information in a single place with OneRecord here.