Saves Time
Health records in seconds. Not weeks.
Squeaky Clean Interoperability
The cleanest, most comprehensive healthcare data sources on the market, including clinical, claims, labs, and more.
No web scraping, ever.
OneRecord is committed to using interoperability standards and secure APIs. Our competition may web scrape data, but we won't. Not now, not ever.
We built the connections so you don't have to.
Connecting to OneRecord's API means connecting to most hospitals, clinics and practices in the country with just one contract. Just plug and play into our fully scalable and reliable APIs.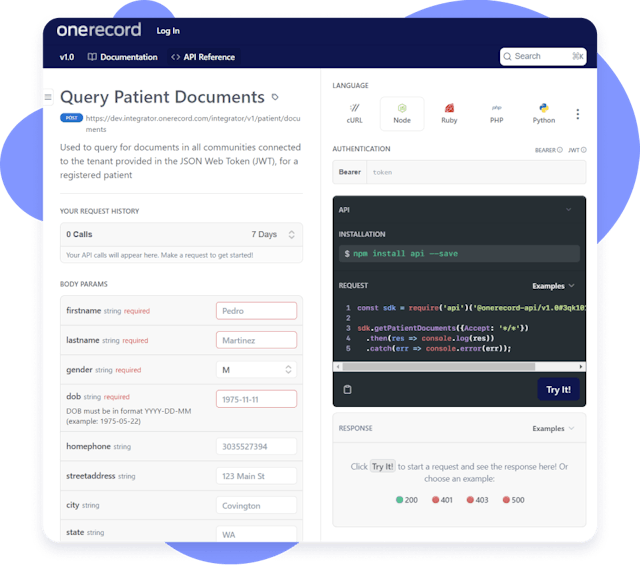 Clear API Documentation
Built for developers by developers
Our tools and services are designed to accelerate developers. Innovation in healthcare happens when digital healthcare products can get their ideas to market. Our documentation lets you skip straight to the process of building quality products on your terms.
Easily Integrated
Simplified integration with all the support
We've made it super simple and secure to integrate our API into your product or service. There's no mishmash of SOAP, HTML, or XML to contend with and no guesswork. Just nice, fully supported RESTful JSON.
Sign one contract
Connect to our API
Start pulling data
Our API Your Choice
Pick one of two integrations, or both
OneRecord API
The fastest way to access consented medical records and claims data, with OneRecord API you'll have the broadest connection to providers and health plans.
Learn About the API
OneRecord API + Workflows
Implement award-winning user experience (UX) in a fraction of the time and cost. With OneRecord Workflows you can leverage ready-made, low-code web components inside of your own application.
Learn About Workflows
The #1 Patient Mediated API
Audited & Secured
We use HTTPS, HL7, OAuth 2.0 and OIDC authorization framework.
>99.9% Uptime
We'll guarantee a stable 99.99% API uptime with every plan.
Real-time Data
Get data in real-time, instant data queries, without any lag.
Full Support
Always on-hand every step of the way, from build and into live.
Easy Integration
We've done all the heavy lifting for you. 
One simple, unified SDK.
No Lead Times
Get instant access to our sandbox environment today.
Ready to build something?
Let's talk about how OneRecord can work for you. Fill out the form below and we'll be in touch.