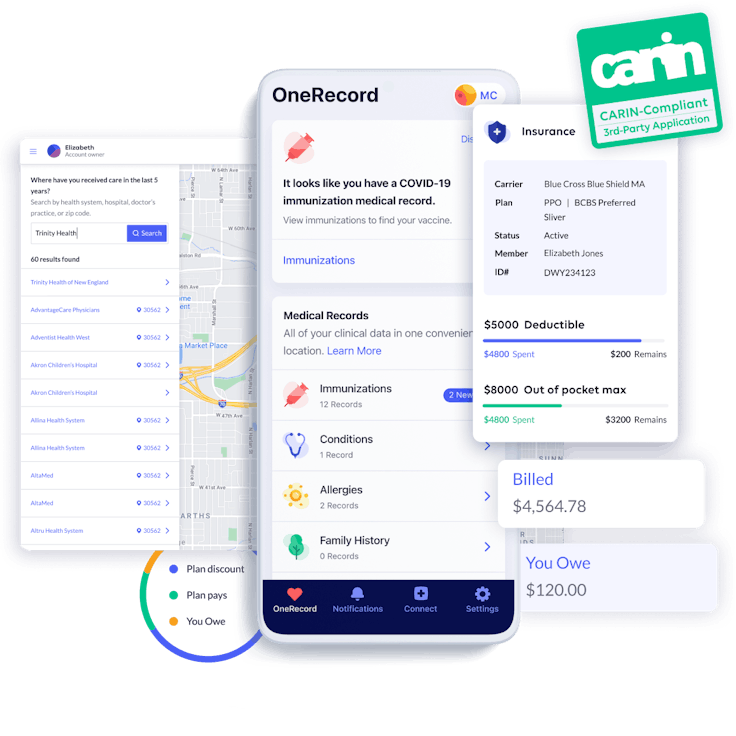 Healthcare's simpler with OneRecord
The CMS Interoperability and Patient Access final rule requires Payers to give members easy access to, and control over their clinical, claims, and formulary data.
As Payers face the looming deadline, they have a choice: comply with the basic requirement, or use the mandate as a catalyst to modernize member engagement and improve their market advantage.
Let's reimagine the member experience together.
How we can help
OneRecord makes managing records simpler, clearer and more convenient. By doing so, it gives consumers something even more important, power over their own care. Work with us to empower your members with their data.
Test Your API
Health plans must enable members to access their healthcare data through third-party applications via a standards-based API.
See Your Data
OneRecord displays member coverage and EOB data in a consumer-friendly user experience that gives your members their insurance information alongside their clinical records for a complete picture of their healthcare journey.
Let's Work Together
Do you have a plan for Patient Access API and Provider Directory API set up for July 2021? Are you thinking about what comes next? We are!
Connection is easy
Avoid penalties and get compliant with OneRecord.
We support Payers in meeting the 21st Century Cures Act's Interoperability and Patient Access Final Rule (CMS-9115-F ) so Payers can focus less on routing information and more on member care.
Thank you
We have recieved your submittion and will be in touch soon.
Using a Third Party for Compliance?
No problem, we've already tested and connected to the following vendors
Guide Coming Soon
Guide Coming Soon
Guide Coming Soon
Guide Coming Soon
Guide Coming Soon
Guide Coming Soon
Guide Coming Soon
Guide Coming Soon
White Paper
Third-Party Applications, such as OneRecord, are helping members connect to their records maintained by their health plan. In order to access their records, members need to au...
Deck
The 21st Century Cures Act makes it possible for consumers to easily access their clinical and claims data in one place. This deck will breakdown the Interoperability and Pati...